So You Want to be a Spartan?
"In the end a Spartan's true strength is the warrior next to him. So give respect and honor to him, and it will be returned to you. First you fight with your head." – King Leonidas (from 300)
I figured a cliche quote from the movie 300 was a good way to start an article that concerns Spartan's.  I recently ran the Reebok Super Spartan Race in Marseilles, IL and man was it brutal.  But why else sign up for races like these if they aren't going to be a challenge, right? RIGHT!
I've run a few mud/adventure races in the past two years and I'd have to say this was the most physically demanding one that I have done.  I actually prefer these much more over straight running like half marathons or whatnot.  For this race, unlike others I focused more on strength training over cardio.  My workouts for the week for 2 months looked something like 4 days of weightlifting and Crossfit (yea I'm one of those people) and then 2 days of cardio ranging from 2-5 miles.  My diet is about 80-90% clean typically, so I didn't have to change a whole lot(eat your lean protein everyone).  Although I did have to eat a little more when training got intense closer and closer to race day.  Correct diet will make a big difference in training.  You can't out train a poor diet.
Alright on to the important stuff: Race Day.  Normally I do these races as part of a team, but this one I went solo.  I did bring along my sister for some support and picture taking(See link at the end). For clothing- I kept it simple: dri-fit shirt, mesh shorts with compression shorts underneath, running shoes and some ankle high socks.  I do have to KT Tape my weak ankles for support.  I would like to give some credit to the people in charge of organizing the Spartan Race- showing up I had absolutely no problems finding the place, parking, signing in or getting my race packet.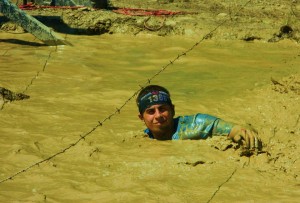 Once all the formalities and everything were done it was race time. 11:15 start time.  The announcers take us through a series of yelling "Arooo" and "I am a Spartan" just to make sure ALL of the adrenaline is pumping through your body right before you start.  And then we're off though, awaiting us potential Spartans are 8+ miles, 20+ obstacles through hills, water, and some of the thickest, tackiest mud I have ever raced through.  At one point I saw a group of guys trying to pull a girl who was literally stuck knee deep in the mud and over heard many others saying the lost their shoes in the mud.  But the one aspect of this race that got me were the hills.  All day it was run up and run down and repeat.  And these aren't easy rolling  grassy hills, a lot of these were 45 degree angled muddy hills with nothing but rocks and tree roots to help you up.  Occasionally, I had to catch some people siding down these hills.  Which is another cool aspect of these races is that you help and get helped by complete strangers along the way.  A few times I stayed and helped a few people up walls, up a rope, or through some mud and the favor was returned for me.  You can make even make a friend or two during these races.  Some very fit and athletic friends.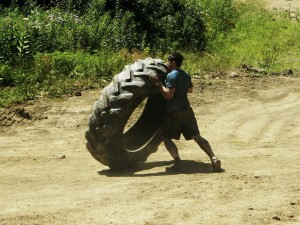 The obstacles were pretty good for the most part. If you fail or decide you don't want to do an obstacle, your ONLY penalty is 30 burpees- ouch.  I failed 3 times- climbing a rope out of muddy water, hoisting a bucket full of cement into the air on a pully and my spear did not stick to the target(yes you get to throw a spear!).  Some of the obstacles that were my favorite: the monster tire flipping, dragging a block of cement with a chain up some hills, car tire drag and pull, and of course the army crawls through muddy water with barbed wire hanging above your head.  I breezed through the 7 and 8 foot walls you had to pull yourself over, as well as the monkey bars.  Along with this there was little wait time for each obstacle.  For those who have run these types of races, you know it can get quite backed up at times.
Overall, I thought this was the most challenging course I have run so far.  Based on this I'd recommend anyone looking for a fun but tough race- sign up for a Spartan Race.  I might go after the Spartan trifecta: Sprint(5k), Super(what this was), and Beast(basically a half marathon mud race).  You do these three in a year and you get a special Spartan metal, bragging rights, and some real cool stories to tell and share hopefully with other Spartans.  Shoot me an email if you want to know more, need some advice or anything else.
If you'd like to see more Spartan Race pictures check out this photobucket slideshow.