UFC 169 Preview: Barao vs. Faber II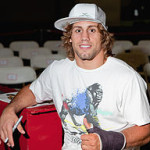 UFC hosts its first pay-per-view of the year of the year when they take over New Jersey for the annual Super Bowl weekend card. UFC 169 is a pretty stacked card up top with two title fights. Ricardo Lamas looks to upset Featherweight Champion Jose Aldo, while the main event gives us a rematch between Urijah Faber and Renan Barao with the winner becoming the undisputed Bantamweight Champion. Also, a huge match up for relevancy takes place in the heavyweight division when Frank Mir tangles with Alistair Overeem.
Heavyweight: Alistair Overeem (36-13) vs. Frank Mir (16-8)
Both heavyweights desperately need a win. Mir is on a three fight skid, including getting knocked out twice ,and has looked lackluster in all three fights. Overeem is on a two fight skid that coincidentally started after he was suspended for performance enhancing drugs. It's a very real possibility that a loss could mean walking papers. I pledged to never take Overeem again, but I'm going to stick with him, I think he's better than Mir at this point (Mir will promptly pull off a submission win and make me look stupid again).
The Pick: Overeem
UFC Featherweight Title: Ricardo Lamas (13-2) vs. Jose Aldo (23-1)
Lamas hasn't lost since the WEC's final event in 2010. He's won four straight in the UFC including his most recent, a KO/TKO of Erik Koch last year (which I witnessed live and it was a demolition). He's been patient in biding his time waiting for Aldo, who for his part, has quitely become the UFC's most dominant champion. Aldo has won 16 straight fights since his last loss in 2005. He so dominated the WEC that when it folded into the UFC, Dana and co. simply gave him the belt and he's defended it well, beating Kenny Florian, Chad Mendes, former lightweight champion Frankie Edgar and a bunch of others along the way. Aldo will knock you out (14 career TKO/KO's) or he'll run you to a decision, submissions aren't his strong suit. I expect Lamas to try and dictate the pace with his wrestling, but look for Aldo, a huge featherweight, to retain his title.
The Pick: Aldo
UFC Bantamweight Title: Urijah Faber (30-6) vs. Renan Barao (23-1)
Since Urijah Faber last lost to Renan Barao, he quietly reeled off four straight wins in 2013 to simply re-position himself at the top of the heap. The knock on Faber is that he can't win title fights, but he's won titles everywhere he's fought, save the UFC. Since 2014, his only losses have been the aforementioned Jose Aldo, former champ Dominick Cruz and Barao, all by decision. Faber is damn good, but then again so is Barao. After losing his first career fight (in 2005) he's simply run off 31 straight wins. Most were by submission (14) but knockouts happen too (7). He's beat everyone he's supposed to, and with Cruz out with injury, he looks to legitimize his title. I love Faber, but I think Barao takes this one.
The Pick: Barao
2014 Record: 0-0