The 10 Best Cars from the Chicago Auto Show
North America's largest automotive show brought over 1,000 vehicles to Chicago's McCormick Place February 8-17.  Often overshadowed by Geneva and Detroit due to it's lack of world premieres (there were only two this year, one of which was an all-electric Kia) the 2014 Chicago Auto Show offered something for everyone this year, automotive enthusiast or not.  It included everything from the countless amount of four door sedans we see every day to the wild and outlandish concepts that we will never see outside of automotive show walls.  I wish I could talk about all the cars this year's CAS had to offer, however I've done my best to narrow it down to a ten-best list.
2015 Subaru Legacy
The 2015 Subaru Legacy made it's world debut at 2014 Chicago Auto Show and it was incredibly…boring.  Boring is good though.  Honda has done boring with the Accord for the past thirty years and the Honda Accord has been one Car & Driver's "10 Best List" for twenty-eight of those thirty years.  And that is exactly who Subaru is taking an aim at with the 2015 Legacy.  It is the only car in the mid-size sedan class that offers all-wheel-drive standard.  It will offer four different trim levels and two different power plants, a 2.5L DOHC boxer engine and a 3.6L boxer engine in the top of the line Legacy 3.6 Limited.  All trim models come equipped with a Lineartronic CVT (continuously variable transmission).  The 2.5L engine, Subaru says, will achieve 26/36 mpg (city/highway) and the 3.6 will achieve 20/28.  Economy numbers which match the Accord in the 4-cylinder but fall slightly short of the Accord V6.  The selling point for this vehicle will be the all-wheel-drive which, after the winter much of the country had this year, will be sure to send some people to their Subaru dealers when this car hits the market to trade in their current models.
2014 Bugatti Veyron 16.4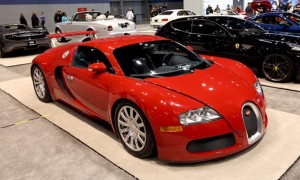 The Bugatti Veyron has been with us since 2005 now and it finally made the rounds and joined us at the 2014 Chicago Auto Show.  The standard model, the one that has only 1,001 horsepower and only tops out at 253 mph, showcased the Comcast Business Super Car Garage along side over a dozen of the world's best looking, most powerful, and most expensive cars.  Standing next to this car I felt like getting on my knees and proclaiming that I was not worthy a la "Wayne's World."  As a petrol head, being so close to one of automotive engineering's finest creations was truly fantastic, even if it  was in that hideous shade of red.
2015 Cadillac ATS Coupe
The 2015 Cadillac ATS coupe is a vehicle that is new for Cadillac.  It's a vehicle that hopes to get them into a market that has long been dominated by Mercedes and BMW:  the luxury coupe market.  And from what I've seen so far I don't see why they can't make a big splash with this car.  First off it looks fantastic, much better than it's big brother the CTS Coupe in my opinion.  Second, it's base power train is one that will sure to have petrol heads licking their chops over.  The standard coupe will come with a 2.0L turbocharged four-cylinder matted to a 6-speed manual transmission with rear-wheel drive.  The 2.0L turbo puts out an impressive 272 horsepower and the available 3.6L V6 is rated at 321 horsepower.  A six speed automatic and all-wheel-drive are available on varying trim levels. If that's not enough, there's always the highly anticipated ATS-V version.
Cadillac Elmiraj Concept
The Cadillac Elmiraj Concept was by leaps and bounds my favorite car from the 2014 Chicago Auto Show.  It represented everything that car shows are all about.  This car had beautiful over the top styling.  It reminded me of the Cadillac Sixteen concept from 2003, however this concept had half the horsepower and half the cylinders of the Sixteen.  The exterior styling is something that isn't so outlandish that it couldn't be seen on the roadways today, the interior styling is however.  I've liked the direction Cadillac has been going the last ten years, if this car is any insight to what they have going on then I will be looking forward to the next ten years as well.
2015 Toyota TRD Pro Series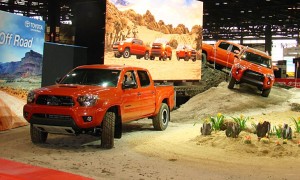 The Toyota TRD Pro Series is a new trim level Toyota is offering in their 2015 Tacoma, Tundra, and 4Runner models to be marketed to the off road enthusiast.  It's also to give them a place in a market that Ford has been dominating for years with the SVT Raptor.  This line of Toyota trucks stands out their disticnt styling cues and off road performance upgrades.  All models will come in either Black, Super White and Inferno exterior colors and all are rolling on black 17-inch TRD alloy wheels (16″ on the Tacoma).  The performance modifications include Bilstein shocks, TRD tuned springs, a TRD skid-plate, and TRD exhaust.  Truck owners are painfully loyal to their brand, so I don't see Raptor owners flocking to a Toyota dealership to trade in their Raptors but I do see Toyota owners trading up to these models.  After all there are as many Toyota off roading enthusiasts out there as all the other truck manufacturers.
Toyota FT-1 Concept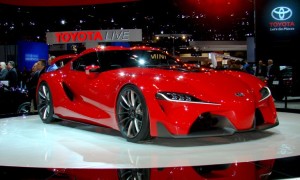 Photos of this concept were released weeks prior to the Chicago Auto Show and the automotive world went wild, and rightfully so.  This car is everything that automotive enthusiasts have been dreaming of since the Supra left Toyota's lineup in 2002.  It looks utterly bonkers, it honestly reminded me of the kind of cars you'd see in Rush 2049, and the idea of a front engine rear-wheel drive platform is what petrol heads kill for.  I'm skeptical however, the styling is still too much concept car and not enough production car.  The automotive world has murmured about a Supra replacement for quite some time now.  When Toyota gave us the FT-HS back in 2007 that was supposed to be the new successor to the Supra, and we never saw anything from that.  The Supra will return in due time, however I wouldn't get my hopes up about it looking anywhere near as good as the FT-1 Concept.
2014 Chevrolet Reaper
If you went to the Chicago Auto Show and couldn't find the Chevrolet Reaper that's because it wasn't in Chevrolet's display area, it was with the Chevy Dealers Family Fun display area.  As with the Toyota TRD Pro Series lineup this truck has been introduced to solely take aim at the Ford SVT Raptor.  Chevrolet hasn't necessarily done a great job in the past when it comes to making performance pickup trucks.  Their last performance pickup, the Silverado SS 2003-2006, fell short in almost every measurable category compared to it's rivals the Ford SVT Lightning and the Dodge Ram SRT-10.  The Reaper, with the help of Lingenfelter, will do nothing of the sort however.  a 5.3L V8 will put out 475 hp and a 6.2L will put out an estimated 550 hp.  Fox Racing provided the suspension, giving the Reaper 9.2 inches of travel in the front and 11.2 inches in the rear.  Lingenfelter says the Reaper will be priced "in the mid 50's," that's around 10K more than the Raptor, look for Chevy loyalists to happily fork that money over however and finally send some competition Ford's way.
Honda FCEV Concept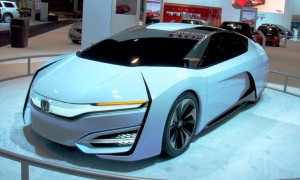 For me, this is the most exciting and promising car that was on display at the auto show.  This car is the future.  Whether we like it or not at some point in time the world's oil supply will become short and we will all be driving vehicles with an alternative fuel source.  Hyrdrogen will be that fuel source.  We have already seen the success Honda has had with FCX Clarity in California and the FCEV is essentially a more powerful version of the Clarity.  Although the FCEV is just a concept it points towards a bright future for Honda and the entire automotive industry as a whole.
2015 Chevrolet Colorado
The completely revamped Colorado should be a vehicle that will bring big success to the Chevy lineup.  Part of that reason being they no longer have any competition from their American counterparts in the mid-size pickup range with Ford and Dodge recently killing off the Ranger and Dakota. The new 2015 Colorado looks fantastic, far better than it's predecessor.  It will come in three different trim levels with two different engine options.  a 193 hp 2.5L 4-cylinder and a 302 hp 3.6L V6.  2016 will introduce a 2.8L 4-cylinder Duramax diesel engine to the Colorado, the first ever diesel engine offered in a mid-size pickup.
2015 Chevrolet Corvette Z06
In all honesty when I first saw pictures of the new Corvette I wasn't a fan.  I didn't like that Corvette did away with the iconic tail lights and moved the styling of the rear end to mimic the Camaro.  Now, however, that I was finally able to see one in person, and in a great color like this one, I had to call my doctor for my erection that lasted longer than four hours.  This car is breathtaking.  The Corvette has long been referred to as the "every day supercar" for the fact that it was affordable and that the styling was reserved compared to other performance cars.  This model proves that is no longer the case.  There is nothing subtle about the Corvette anymore, when this car comes down the street you will notice it, whether it be it's sharp eye-catching looks or the noise being produced by it's 625 hp 6.2L supercharged LT4 V8.  The Z06 comes with a standard seven-speed manual transmission, or there is an all-new eight-speed paddle-shift automatic transmission designed to enhance both performance and MPGs.  A Corvette this powerful and this advanced will leave us asking only one thing.  What do they have in store for the ZR1?
[Images from the Chicago Auto Show]