Deschutes Brewery Beer Review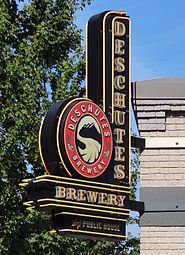 The Deschutes Brewery is located in Bend, Oregon. Deschutes is a craft brewery that has been around for about a quarter of a century, but is a relative unknown to those east of the Mississippi river. In fact, Illinois is the only entire state east of that boundary who is encompassed on their distribution location, but that is set to change as Ohio and Kentucky will be added in the coming year. Two Deschutes beers that are readily available on draft in Illinois are Mirror Pond Pale Ale and Black Butte Porter. Deschutes Brewery clearly take prides in their location, beyond their namesake, as Mirror Pond is named after a part of the Deschutes River and Black Butte is named after part of the Deschutes National Forest.
Mirror Pond Pale Ale
Mirror Pond Pale Ale is a year round brew from Deschutes and is their most popular beer, which in large part is because it doesn't taste like pond water. This pale ale is lighter in taste than most traditional pale ales and provides a nice, smooth hop flavor. It certainly doesn't overwhelm the pallet with bitterness, which makes for a nice transition to or from a more flavorful brew. This beer is quite easy to drink at 5% alcohol by volume and 40 IBUs and is a nice change of pace. Try it on draft for the best results.
Black Butte Porter
Black Butte Porter is a thick porter but it isn't heavy. It has a decidedly chocolate roast taste and flavor, that isn't overly sweet thanks in part to a small touch of bitter hops. It's a dark beer with a tasty flavor and is also very much appreciated on tap. As Deschutes Breweries first beer,  they did quite the job and all dark beer fans should give this porter a try. It is especially enjoyable on a chilly winter night.